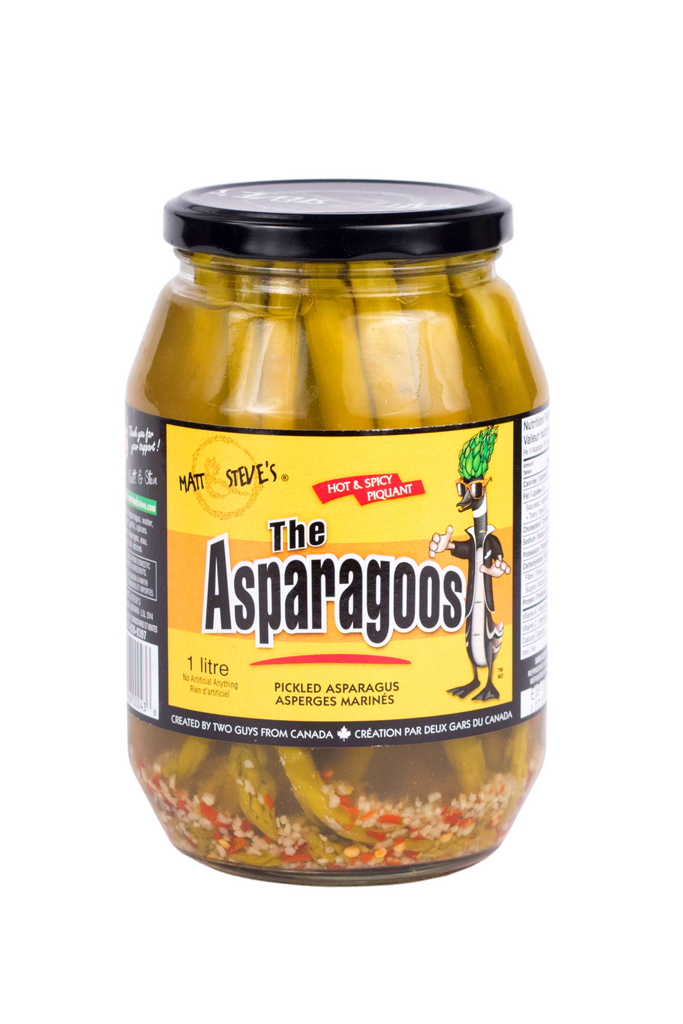 $78.00
$0.00
The Asparagoos - Hot & Spicy [1L] (3pack)
*Best Price* for a limited time 
THE GOOS IS LOOSE! "Our "Asparagoos" is a pickled Asparagus that has big crunch and bold flavour, packed tips down for optimal snacking right out of the jar! Guaranteed to light up your senses.  
Available in a 3 Pack, 6 Pack or 9 Pack.

INGREDIENTS: Asparagus, Water, Vinegar, Salt, Garlic, Spices. 

Awesome
Not only did these folks help me thru my Asparagoos withdrawal! I then ordered some product and only the best. Great Product, Great Company and Great People. Customer for life!
Asparagooooosss!!!
These are some of my favorites!!! I can eat a big jar to myself in 1 sitting....sick I know, but so damn good!
Amazing!
The pickles are by far my favorite! Soooo crunchy and spicy! The asparagus and beans are picked daily from my kids and my Caesars! ❤
I'm a fan, I wish I worked for Matt & Steve I like their products that much.
How to make the perfect Caeser? just add everything Matt & Steve's to it. Hot and Spicy is my favorite flavor offered by Matt & Steve's and it's finally paired with delicious Asparagoos! I have been loving them. PS: did you know Asparagus has the highest glutathione (helps remove toxins) then any other vegetable or fruit? So get a glass, poor yourself a Caeser and have second one because you're worth it.
The Asparagoos - Hot & Spicy [1L] (3pack)